The new way forward in casino affiliation
Increase your online casino traffic...
About Casino Affiliate Profit
Casino Affiliate Profit (CAP) will team up with promotional gambling websites to increase traffic throughout the affiliation network. It is quite a simple exchange system. You will place a link, banner, content for your choice of our partners products on your website(s) and in return we and our affiliates will place links and/or banners that direct traffic to your website(s). Itīs as simple as that.
This is not a direct link exchange, a simple static text link from one site to another is not sufficient to drive traffic, increase search engine result placement or page rank on a consistent basis.
You benefit from being able to get many text or banner links back to your website in return for a single link to one of our promoted casino products, choose to link with content, text and banners to more than 1 casino product and you can benefit from links back to your site from up to 50 gaming sites.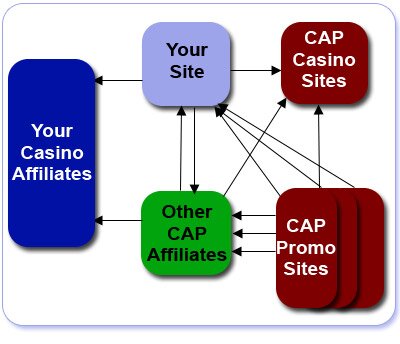 Please see our tutorial page for full details of what you can acheive and to start the process for a successful link exchange partnership with us.